We're thrilled to unveil the new feature art for Torchlight II. This art piece has been in top secret development, created by concept artist Kyle Cornelius.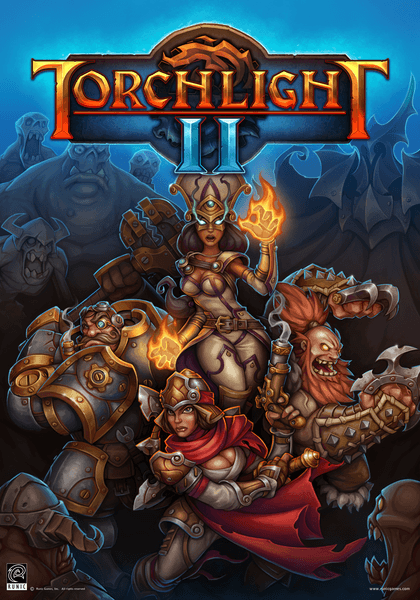 This artwork is our artistic representation of what you're about to play, our go-to image on Steam and anywhere else you see Torchlight II, our rock-n-roll poster we'll frame for the office, and if we ever do a box copy in the U.S., this will be on the cover.
We are pretty excited.
Here in their own words, Kyle and Beck add their thoughts to the "making of" the cover art.
Concept Artist Kyle Cornelius:
This is actually the second iteration of of this particular cover. The goal with this version was to more prominently feature our player classes in a very comic book style layout. The team has done an excellent job of creating a diverse group of heroes, each with unique personalities, and we thought it best that they be the focus. The Torchlight cover did this well, and we thought it best to keep the familiar feel, while showing off the more refined art style for the sequel.
Art Director Jason Beck:
We tried a couple different compositions. One featured our villain looming over the four player characters, which was nice in its own right, but we went with this version of the cover because of a greater focus on the four. We wanted it to have some similarities to the Torchlight cover and since Torchlight II is now a multiplayer game it felt right to keep the focus on the characters working as a group.
In addition, we have put together a desktop wallpaper version of the cover art for you to enjoy! Merry Christmas to our fans! We love you!
Right click and "save as" to download: 1920x1200 :: 1920x1080 :: 1600x1200 :: 1280x1024 :: 1024x768