Let us say, first of all, we had a marvelous PAX East. Our deepest gratitude goes out to all of you for coming to the booth to play Hob and share your excitement with us. Our philosophy of game development has always been to make a game we want to play, but knowing that it is a game that you want to play too is fantastic. So thank you!
Humblebragging
Who got a Best in Show award? We got a Best in Show award! Thank you Marooners' Rock! You…um…rock.
Cosplay Is the Best Play
We all watched @tavinnea streaming her cosplay creation on Twitch, but we were not even prepared for how fantastic she looked as our hero. And if this is not the most beautifully meta thing you've ever seen, then you need to go look up what all those words mean. Plus, she wasn't alone! @Silent_Warlock dropped by with a Hob sword he made.
You. Have. Swag.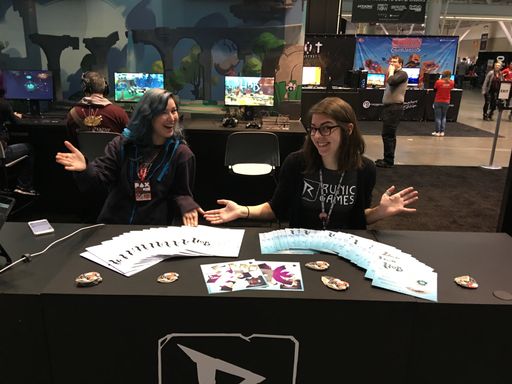 The coloring books ( ) and papercraft ( ) were such a hit that we feel compelled to remind you that you can download them for yourself. Granted, it's not quite the same as coming to the booth to watch Allen glue his fingers together, but you'll still have fun. And please send us pictures of your finished products on whatever social media you prefer.
Won't you be my neighbor?
It may be hard to believe, but we were not the only awesome thing happening on the show floor. We want to make a special shoutout to Dire Wolf Digital for being delightful neighbors. Ben brought home Clank, which he needs to bring to the office for–ahem–research purposes.
Hob seems to remind a lot of people of Bastion, so it was cool to be down the row from Supergiant, except there's only so much longer we can look at Pyre. JUST TAKE OUR DAMN MONEY ALREADY!.
We were also temporarily colonized by the gang from Compulsion's We Happy Few, but they were super nice–dare we say Joyful?–and no one from our crew was drugged, stabbed or kidnapped. Thanks guys!
Hardware Everywhere
We also want to send our thanks to our hardware partners. Astro set us up with some sweet headsets, Alienware gave us monitors, and Sony kicked in those sassy PS4 Pros.
And that's a wrap on PAX East. Remember how we said Hob would come out in 2017? That means we've got work to do!