We are excited to announce our new title "Hob", an original IP for PC and console.
Hob is set on a beautiful and dangerous unknown world, with buzzing life above and the whirrs of mysterious machinery below. The more players delve into the world's design, the more they uncover a planet in peril. Players must learn to survive, understand their true purpose through acquiring skills, and ultimately transform the nature of the world itself.
Hob is presented without text or dialogue. Narrative is revealed as players explore and interact with their mysterious planet, and the strange life forms that inhabit it. Hob features smooth controller gameplay, multi-layered puzzles, and striking visuals
The official Hob website, hobgame.com, is live today with screenshots, concept art, and the first teaser trailer. Gaming news outlet Polygon has the exclusive first interview with President Marsh Lefler, CEO Max Schaefer, Level Designers Patrick Blank and Rick Lesley, and Concept Artist Kyle Cornelius.
Go hands-on with Hob during PAX Prime in Seattle, August 28 through August 31. Come see us and try the game at booth #6602 – see the map below. We also have a very special Official Pinny Arcade pin! Find us at PAX and collect our limited edition Sprite pin on your pinquest.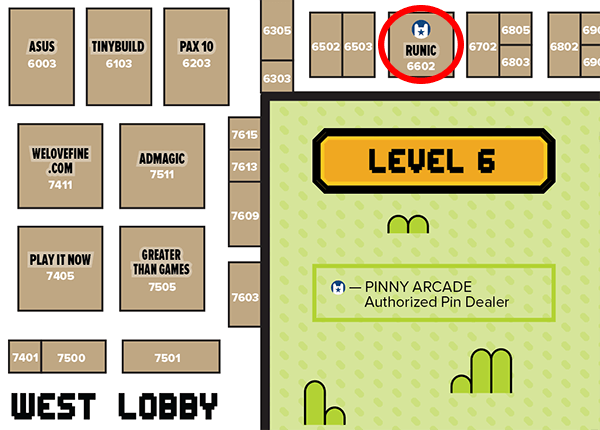 If you don't have a PAX pass, keep an eye on the official Runic Games Twitter feed! We'll have lots of PAX badge giveaways for you to win in the coming days as we countdown to the show.
So, what are you waiting for? Click through to the official site to take a look at the game. We can't wait to hear what you think!