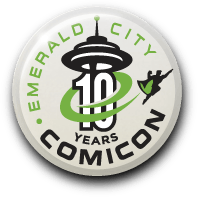 We're pleased to share with you the details of our Emerald City Comicon appearance. This is the first year ECCC has invited games to participate, and we are thrilled to be included. Below are the details of where you can find us this Saturday and Sunday. We'll be chatting about art, PC Games, and giving away signed posters of Torchlight II. Spread the word, bring your questions, and we look forward to seeing you there!
Date: Saturday, March 31st
Room: TCC-102
Time: 5pm - 6pm
Do triple-A games need to have life-like graphics? Why is the norm in comic books often a hard sell in video games? Is there space for cartoonish-looking games that aren't childish? We'll take a look at inspirations from animation to comic books and how those visuals translate into video games, pitfalls and all, through the filter of the TORCHLIGHT series. Panel includes Runic Games' Art Director Jason Beck, Lead Level Designer Patrick Blank, Concept Artist Kyle Cornelius, and Lead Environment Artist Adam Perin.
Date: Sunday, April 1st
Room: TCC-102
Time: 3pm - 4pm
How do the lessons of the past affect the our strategy for the future? Are audiences growing tired of the subscription model? The development and future of PC Gaming is examined by the creators of Diablo, Guild Wars, and Torchlight. Panel speakers includes Max Schaefer, co-founder Runic Games, Patrick Wyatt, co-founder ArenaNet, and Steve Goldstein, Interactive Entertainment and Video Games Practice Group Chair.
---
Emerald City Comicon is held March 30-April 1, at the Washington State Convention Center in Seattle, WA. You can purchase your tickets by clicking here.